Mushrooms are a valuable source of micronutrients that improve human nutrition;  they are rich in protein and minerals, which are essential components of our diet. They can also be grown sustainably, thus meeting our nutritional needs without adversely affecting the environment and climate. For example, mushrooms require little space for cultivation and can be grown throughout the year without relying heavily on seasonal rainfall.
BioInnovate Africa is supporting a project that is commercialising nutrient-rich substrate blocks for mushroom cultivation in East Africa to increase the production and supply of mushrooms in East Africa, and more importantly, as an income generating business for rural and peri-urban communities. Ms Bertha Mamiro is the project team leader, and the collaborating partners include the Tanzania Industrial Research and Development Organisation (TIRDO), OKOA Mushroom Supplies Enterprises Limited, Tanzania, and Global Agro Concept Limited, Rwanda. One of the team members, Mr John Kimario, explains below his inspiration for running a mushroom business in East Africa:
What motivated you to start your business?
My motivation for starting a mushroom business stemmed from an initiative to locally grow mushrooms as part of church economic project that was pioneered by the Korea Church Missionaries in Morogoro, Tanzania. In 2016, I was challenged by one of the missionaries to start a church mushroom project at the Presbyterian Church Youth Centre in Morogoro, with the objective to grow supplementary food for church workers and earn additional income for the church.  This was successful, and I was encouraged and supported to grow more mushrooms. The mushroom cultivation efforts culminated in establishing the OKOA Mushrooms Supplies Enterprise in 2019, which was preceded by a series of scientific experimentations of the OKOA Mushroom Substrate Blocks tests that were conducted by TIRDO in 2018.
Why should consumers buy your products?
Mushrooms are nutritious and contain medicinal value.  OKOA Mushroom Substrate Blocks is a biobased innovation that improves on mushroom growers production volume and crop quality, as well as saves on time and costs incurred to prepare mushroom substrates. Mushroom agribusiness adds to the growers' livelihood support system and contributes to protection of the environment through organic waste recycling. Cultivation of OKOA Mushroom Substrate Blocks can easily be adopted and benefit different group of growers who include youth, women, persons with disability, retired and older members of the society among others, thereby earning them income and is a food supplement to households.
What opportunities do you see for the future of your business?
Mushroom production in East Africa has remained unstable for decades. Value chain for mushrooms has stubborn missing links, the major one being broken and weak market linkages. There has been sporadic efforts to improve on various stages of mushroom productivity, through NGOs and various donor support schemes. At national level, efforts to bring up the sector has remained disjointed as support schemes come-and-go with varying motives.  There is still no national standard that can guarantee national and international market needs.  Efforts to provide a stable link to small mushroom entrepreneurs, like the support we have received through BioInnovate Africa, should be encouraged. These efforts boost mushrooms value with right technologies and market links, which support the growth of mushroom business to achieve national and regional bioeconomy development needs.  However, limitations inherent in the sector such as low yields, limited seeds (spawn)  reserves, shortage and seasonality of substrates, broken market value chain, and singly species variety lead to low volume of production, high crop prices, and low consumption.
Click here to download the poster.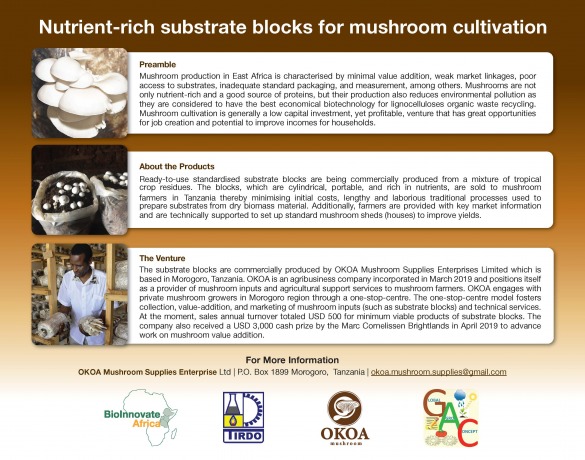 Click here to learn more about BioInnovate Africa, and here to learn more about icipe.