The beauty with a sustainable bioeconomy is that nothing goes to waste! With support from BioInnovate Africa, an innovative multidisciplinary team of scientists from the University of Dar es Salaam, Sokoine University of Agriculture, Makerere University, Tanzania Commission for Science and Technology, working jointly with industry partners, Guavay Company Limited (Tanzania) and Tursam Investments Limited (Uganda), have co-developed a nitrogen biofortified organic fertiliser called 'Hakika' from biodegradable municipal waste.
Produced by the Guavay Company Limited in Tanzania, Hakika organic fertiliser was commercially launched on 15 July 2021, at a colourful event in Njombe, Southwest Tanzania. More than 300 people participated in the launch, majority of them being farmers, agro-dealers, researchers and the local government.
Njombe District Commissioner, Ms Kisa Kasongwa, delivers a keynote address at the launch of 'Hakika' organic fertiliser.
Njombe Mjini Member of Parliament, Hon. Deogratius Mwanyika, makes opening remarks at the launch of 'Hakika' organic fertiliser.
Hakika is an internationally certified organic product good for avocado farming. It contains natural growth promoters, beneficial micro-organisms that help to preserve soil moisture and is proven to increase crop yields by up to 25%. At a retail price of 38,000 TZS (USD 17) for a 50-kg bag of Hakika, the product is affordable to avocado growers in Tanzania. Its use by farmers will boost Tanzania's and the region's potential to export organic avocados overseas.
Hakika is one of the examples in eastern Africa showing how academia and industry can collaborate to produce sustainable solutions for rural and urban households and competitive biologically based products for the African and global market. The true value of science and investment in research and development in universities, can best be realised through collaborations that translate research findings into practical solutions for society.
Click here to download the poster.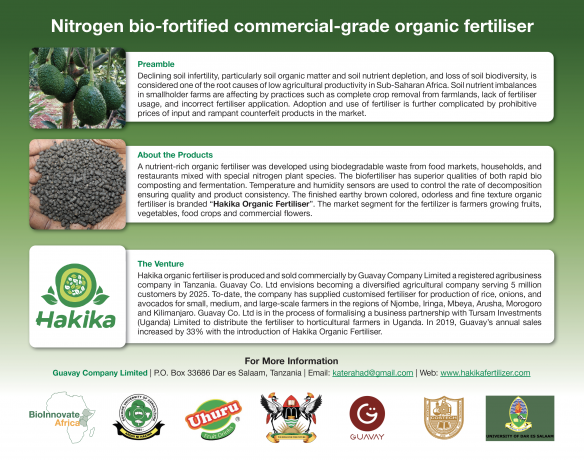 Click here to learn more about BioInnovate Africa, and here to learn more about icipe.