Kigen Compton is the co-Founder and Managing Director of BioBuu Limited operating in Kilifi, Kenya and Dar es Salaam, Tanzania. The business processes over 20 tons of plant-based organic waste daily using Black Solider Fly (BSF) Larvae, to produce high protein feed for chicken and fish as well as organic fertiliser.  This biobased business is a pilot commercial enterprise supported by BioInnovate Africa. Kigen explains below his inspiration and vision for the business:
What motivated you to start the business?
There is need to address the massive degradation of the environment caused by various human activities. Our desire is to preserve the environment by converting biological waste into useful products and reducing greenhouse gas emissions. At BioBuu Limited, we achieve this by recycling biological waste using BSF larvae. The larvae are then processed and used as a protein supplement in animal feed, and the residual biowaste is converted into organic fertiliser.
Why should consumers use your products?
Our products target a client base that are concerned about the price of agricultural inputs, and who care about the impact agriculture has on the planet. Also, our product benefits women and youth who constitute the majority in the value chain of chicken and fish feed and farm fertiliser. Our protein feed and fertiliser are affordable and competitively priced against other options in the market such as fish meal and soy, with better nutritional composition. Our product could also be a strategy to conserve and increase global fish stocks; and spare resources (water and land) for other productive uses.
What opportunities do you see for the future of your business?
Untapped opportunities exist between us and large producers of biological waste. Instead of sending biowaste to landfills, majority of large-scale producers of the biowaste will send it to BioBuu for processing into useful products. This is a great opportunity for mutually beneficial partnerships for both parties and the environment.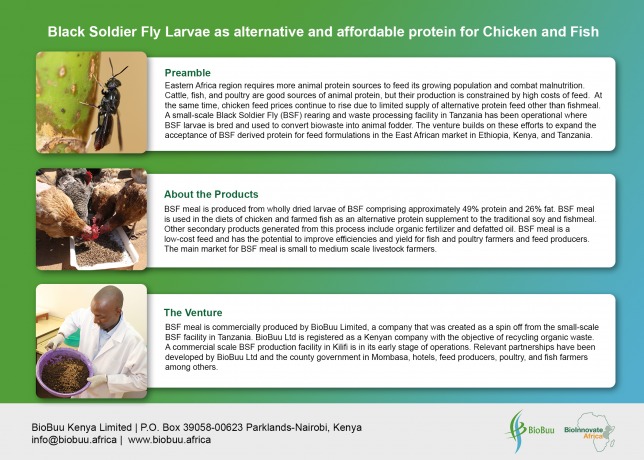 Click here to learn more about BioInnovate Africa, and here to learn more about icipe.